ATV & JEEP SAFARI Cappadocia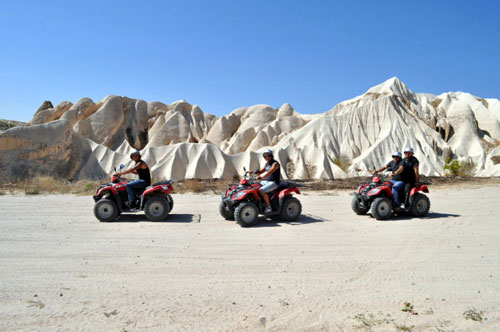 itinerary
day 1
CAPPADOCIA ATV TOURS
A great way to get right off the beaten track! Take a half or full-day guided tour through the most beautiful of Cappadocia's spectacular rock-cut valleys on a sturdy ATV (quad) bike. These tours are a great activity option for those seeking a few hours of fun and adventure outdoors. ATVs provide an opportunity for great sight-seeing, as one is enabled to roam the hills, valleys, dunes, and trails of the Cappadocia.
A variety of ATV tours, lasting from 2 to 8 hours, are available in Nese Tour Travel Agency. All tours include a guide. The two hours tour is the most common. 2 hours ATV tour is 35 Euro per person including a guide with another ATV.
ATVs are also available daily rentals. Our All Terrain Vehicles are extremely easy to use, as they are fully automatic, so no experience is necessary. The tracks you will be riding on are carefully laid out to be challenging, but not frightening.

CAPPADOCIA JEEP SAFARI TOURS
One of the best ways to explore Cappadocia is driving off-road with 4x4 vehicles: Cappadocia Jeep Safari.
We will start our adventure trip by driving from Goreme to Urgup - Mustafapasa and driving through Uzengi river. We will drive by the pigeon houses and grape vines to Ortahisar. After a small break in Ortahisar, for taking the pictures of Roman Castle, we will drive off-road to Red valley and visit a cave church and cave depots where we store lemon, potatoes and produce mushroom in the caves.
After the cave church and depots, we will have our lunch in Monks Valley (Pasabag) and then drive through Honey Valley to Uchisar. After another picture stop in Uchisar, we will drive off-road to Goreme from Pigeons and Babaccik Valleys.
The tour is about 100 km and lasts 8 hours. The rate is 90 USD per person including guide, gas and lunch. We need at least 2 people to arrange a tour.