CAPPADOCIA 2 DAYS 1 NIGHT BY FLIGHT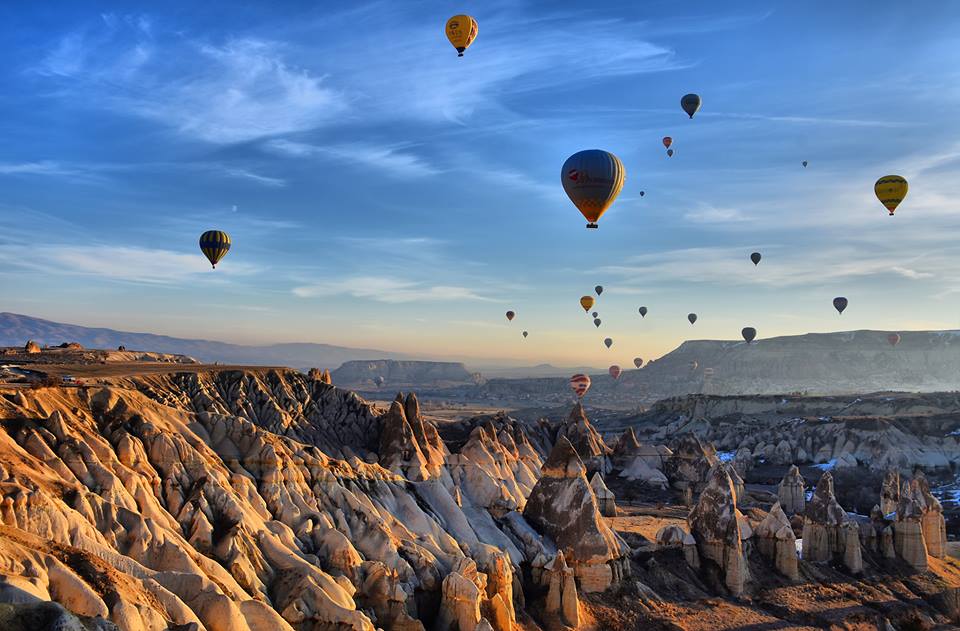 itinerary
day 1
Early morning pick up from hotel. Transfer to airport in Istanbul

Flight to Cappadocia. Pick up from airport and continue to;
Goreme Panorama, a stop to take nice pictures of Goreme town at a spectacular viewpoint.
Goreme Open Air Museum, almost all rock blocks have ruins of churches, chapels, dining halls and living rooms. Today's Goreme is considered the place where Open Air Museum monastery education system got started.
Avanos, its name in the period was Venessa. The tradition of making ceramics in the district dates back to Hittites. The ceramic mud made from red soils and loam brought by Kızılırmak(Red River) is shaped in the hands of the ceramic artists of Avanos.
Devrent Valley, also known as valley of Fairy Chimneys. Not very large valley , with small tuff cones standing close to each other by the hundreds and making the horizon look ragged.
Pasabagi(Monks Valley), the region used to be called Priests Valley is decorated with very interesting natural formations. Conical shapes of single bodies with several heads scattered in vineyards make the area a nice walking place. Was used for seclusion by priests aimed to live a reclusive life.
Urgup's Fairy Chimneys, with conical shaped body and a boulder on top of it. Three Graces(Üç Güzeller) are the brilliant three fairy chimneys.
End of tour transfer to Cave Hotel . Overnight in Cappadocia .
day 2
Breakfast served at the hotel . Morning pick up from hotel and continue to;

After breakfast pick up from Hotel for full day South Cappadocia Tour ;
Uchisar, famous with Uchisar Castle which was constructed on the highest point of the region, has been used as an important defense point against invasions during Roman and Byzantine periods.
Kızılçukur; it is a valley called Rose Valley as well because of the colour of the rocks. One of the nice valley for hiking in the area. That was also used by the Christians at the end of the 5th century.If you can look from a distance up on a hill, you can notice that the valley has a shape like a finge. So wherever you start hiking you come out from same point. The valley colour also change up to daylights tha is why one of the best place to watch the sunset.
Cavusin, church and castle of Cavusin that was named after Emperor Nicephorus Phocas dates back to the years of 964-965. Church has single nave and it has a cradle vault and 3 apses. And its narthex is demolished.
Love Valley, offers you a wonderful view with its pillar shaped rock formations and funny shaped fairy chimneys. It is called originally White Valley that gives you chance to take amazing pictures.
Underground City(Kaymaklı or Ozkonak), in Cappadocia there are numerous historical underground cities, which were largely used by early Christians as hiding places.
Pigeon Valley, pigeons live in these dovecotes carved into the rocks and cliffs. Years ago the pigeons were used to carry messages from this remote region. Another great place for hiking.
End of tour transfer to airport . Flight to Istanbul. After arriving transfer to Hotel in Istanbul .