Turkey Jordan Israel Highlights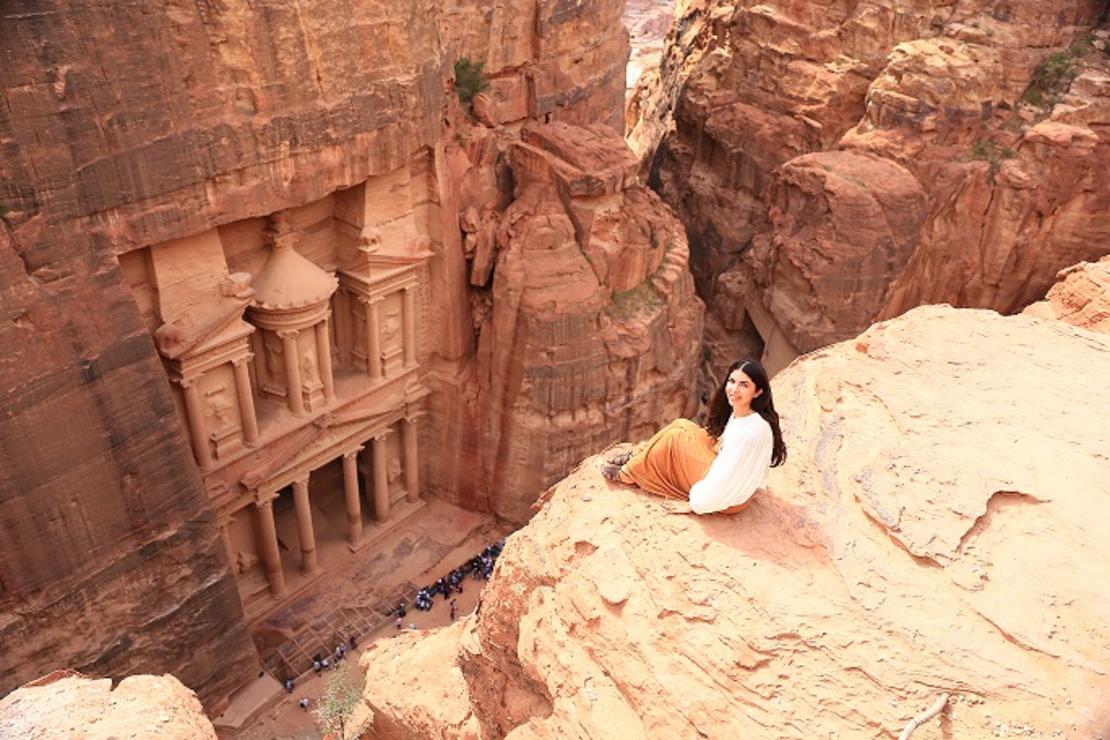 itinerary
day 1
Arrival to Istanbul:
Transfer from Istanbul Ataturk Airport to hotel on your international flight arrival.Overnight in
Istanbul
Meals: None
day 2
Istanbul Sightseeing Tour:
Today visit some of the most important sights of the historical Sultanahmet area.Your guide takes
you to the Blue Mosque,St Sophia,Hippodrome and Obelisk,Grand Bazaar and Topkapi Palace
(excluding optional extra entrance to Harem room).Overnight in Istanbul.
Meals: Breakfast & Lunch included.
day 3
Cruise on Bosphorus / fly to Cappadocia:
View sights such as Dolmabahce Palace,Rumeli Fortress along with other monuments and luxury
villas that line the shores of the Bosphorus during a half day morning cruise.The guided cruise tour
also makes visits to the Spice Bazaar & Rustempasha Mosque.Than some free time for you to explore
on your own till transfer to airport for early evening flight to Cappadocia.Overnight in Cappadocia.
Meals: Breakfast included
day 4
Cappadocia Tour with Goreme:
*Optional: Add a sunrise hot air balloon ride,affording amazing views over the valleys
Full day for exploring this land of fairy chimneys,churches & monasteries carved from the volcanic
rock and picturesque valleys.Guided tour visiting Devrent Valley and Monk's Valley (Pasabagi),Avanos
village,Goreme Open-Air Museum and Uchisar Natural rock castle.Overnight in Cappadocia.
Meals: Breakfast & Lunch included
day 5
Red Valley & Underground City:
On this day your guide will take you for a 4 km (medium grade) hike in Red Valley,exploring rock-cut
churches and colorful fairy chimneys along the way.Than on to visit Cavusin (old Greek village) and
Kaymakli Underground City.The day also includes panoramic views at Pigeon Valley with its famous
dove cotes & Ortahisar.After the full day tour you have some free time till transfer to the bus station
for departure on overnight intercity bus to Pamukkale
Meals: Breakfast & Lunch included
***If you do not wish to travel by overnight bus instead we can arrange by flight,please advise
preference
***If you would prefer to visit Derinkuyu Underground City & hike in Ihlara Valley,please advise
preference
day 6
Travertens of Pamukkale:
Arrival early morning (if by overnight bus) to Pamukkale and meet for transfer to a small hotel where
a day room is provided for you to have a shower and breakfast.Than meet up with tour visiting the
natural formation of the travertens (cotton cliffs/cotton castle) in Pamukkale along with the ruins of
Hierapolis.End of the day with arrival to hotel in Kusadasi.Overnight in Kusadasi.
Meals:Breakfast,Lunch & Dinner included.
day 7
Ephesus & House of Virgin Mary:
One of the jewels in the crown of Turkey - the Ancient City of Ephesus is a must.Walk down marble
streets,view the magnificent Celsius Library and the Grand Theatre,etc.Also visits to the House of
Virgin Mary & remains of Artemis Temple are included.Overnight in Kusadasi.
Meals: Breakfast,Lunch & Dinner included
day 8
Flight to Amman (Jordan)
Breakfast,check out and transfer to Izmir Airport for departure on domestic flight to Istanbul.Arrival
and connect with international flight to Amman.On arrival meet with representative who is waiting
to take you to the hotel,evening at leisure.Overnight in Amman.
Meals: Breakfst included
day 9
Jerash & Ajloun:
After breakfast,panoramic city tour in Amman,visiting Amman citadel, Roman theatre and Folklore
museum.Than continue to Ajloun and visiting this famous Islamic castle after which head to the
Decapolis city of Jerash founded in 300BC for a tour of this ancients Greco-roman city.End of the day
tour with return to Amman.Overnight in Amman.
Meals: Breakfast included
day 10
Madaba / Mt Nebo / Kerak:
Proceed to St.George's Church in Madaba,home to the famous mosaic map of the Holy Land before
moving on to Mt.Nebo,the memorial of Moses.Continue to Kerak via al Mujeb mountains to visit the
famous Crusader castle of Reginald of chatillon and than to Petra.Overnight in Petra.
Meals: Breakfast included
day 11
Petra:
After breakfast meet with local on-site guide and begin to explore the red rose city of Petra.Petra
was first established around the 6th century B.C. by the Nabataean Arabs,a nomadic tribe who
settled in the area and laid the foundation of a commercial empire that extended into Syria.With the
guide pass the canyon,the so called Siq,to see the beautiful Treasury.Continue via Street of Facades
to the Royal Tombs and Pharaoh's Castle.After 5 hours the guide will say farewell to you and you
then have the remainder of the day to further explore around Petra on your own(for example climb
the 800 stairs to the Monastery El Deir,etc).Return the same way to the entrance gate.Overnight in
Petra
Meals: Breakfast included
Optional Extra: Petra by Night: experience the entire Siq and the Treasury lit with over 1000
candles.Operates every Mon/Tue/Thu,lasts around 2 hours.
day 12
Wadi Rum,a day of adventure including camel ride & jeep tour
Depart from Petra and drive to Wadi Rum village.After a first tea enjoy a ride on camels to red sand
dunes through Rum and Um Ishrin valleys.On the way stop at Lawrence's spring.After having a look
at the Nabatean inscriptions in Anfashiyeh leave camels and camel guide to cross a sand dune,where
a jeep will join you for lunch and rest in the shade of the mountain.In the afternoon, the jeep will
take you to visit natural rock bridges in Jebel Burdah and Um Fruth.
Arrival to Bedouin styled camp.Overnight in Wadi Rum (private tent with basic ensuite bathroom)
Meals: Breakfast,Lunch & Dinner included
day 13
Dead Sea
After breakfast at the camp,proceed on the 4 hours drive to the lowest point on earth,the Dead
Sea.Arrive and check in to hotel with rest of the day & evening free at leisure to float and
relax.Overnight at Dead Sea
Meals: Breakfast included
day 14
Border crossing from Jordan into Israel
Breakfast,check out and transfer to Jordan – Israel border.Farewell to your Jordanian driver and cross
over Allenby Bridge.On the Israel side meet with transfer driver who is there to take you on to the
hotel in Jerusalem.Remainder of late afternoon/evening at leisure.Overnight in Jerusalem.
Meals: Breakfast included
day 15
Old Jerusalem & Bethlehem
Join on full day regular group tour of Old Jerusalem & Bethlehem.Visit Mount of Olives for a
panoramic view of the city.Than stop at Mount Zion to visit King David's Tomb,Room of Last Supper
and the Dormition Abbey.Enter the Old City and walk through the Armenian and Jewish quarters to
the recently excavated and restored Cardo,the Roman road.See the Jewish Wailing Wall,the Kotel
and continue to the Christian quarter.Walk along the Via Dolorosa and visit the Church of Holy
Sepulchre.Than continue to Bethlehem where Jesus was born;walk through Manger Square to visit
the Church of Nativity and end with a view of the Shepherds' field.Return to hotel with evening free
at leisure.Overnight in Jerusalem
Meals: Breakfast included
day 16
Biblical Highlights of Galilee
Join on full day tour starting with departure via the coastal road and landscape of the lower Galilee
to Nazareth,the town where Jesus spent his childhood.Visit the Basilica of Annunciation and the
Church of St.Joseph.Continue,via Kana, to Tiberias,the lively resort town on the Sea of Galilee.Drive
along the Kineret Lake to Capernaum and view the ruins of the ancient synagogue where Jesus
taught.Continue to Tabgha and visit the Church of Multiplication of the Fish and Loaves with the
beautiful mosaic floor.Proceed to Yardenit,the famous baptismal site located where the Jordan River
flows out from the Sea of Galilee to the Dead Sea and enjoy the peaceful and natural surrounding at
this site.Overnight in Jerusalem or Tel Aviv (as per your preference)
Meals: Breakfast included
day 17
Pearls of Western Galilee
Depart on full day tour starting with drive to Caesarea,the ancient Roman capital and port.Here enjoy
a walking tour of the theatre and the archaeological ruins and excavations.Continue to Haifa for a
scenic view of the City,the Port and the magnificent Bahai Gardens and Shrine.Proceed to Rosh
Hanikra and descend by cable car into the underwater grottoes and admire the spectacular natural
formation.Than head to Acre,the Old City recognized by UNESCO as a world heritage site and here
walk through the market,the mosque ad the old port.Visit the remarkable underground Crusader City
and crypt and learn about their fascinating history and culture.Overnight in Jerusalem or Tel Aviv (as
per your preference)
Meals: Breakfast included
day 18
Departure from Tel Aviv
Breakfast,check out and as per your flight departure time transfer to Tel Aviv Airport.